Diagnosis: Facet Arthropathy
Clinical Keywords: facet arthropathy, facet hypertrophy, degenerative back disease, back arthritis, spinal canal stenosis, neuroforaminal stenosis  
Clinical Problems:
Source of low back pain
Presence may lead to spinal canal and/or neuroforaminal stenosis leading to neurological symptoms such as weakness, numbness, or tingling
In Plain Language: The spine or backbone is made up of multiple bones stacked upon each other in a column with cushion-like intervertebral disks between them.  Each bone is a called a vertebrae which has a round front portion called a vertebral body and a back, arch-like portion called the posterior elements, which include the interlocking joints of the backbone called facet joints.  These joints can age and undergo arthritis-like changes by growing larger and forming new bone which can help stabilize the joints, however can also lead to symptoms such as pain, weakness, and numbness due to the excess bone pushing on nearby nerves.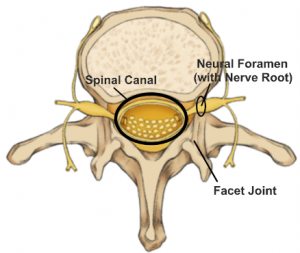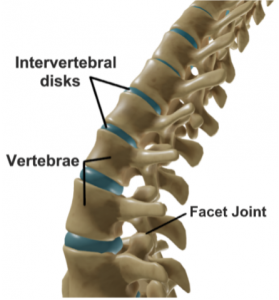 (Location of spinal components)   
Create a free Mediphany account now to access the rest of this content and other self-help videos and comparisons.
Register Now
Login
If you have low back pain and/or facet arthropathy and would like a personalized video explanation of your MRI of the lumbar spine, please let us know. If you would like more information about related posts you can view our low back pain series or visit our Youtube Channel.
To buy your own personalized video report click here.